Garden Rubbish Removal Services in London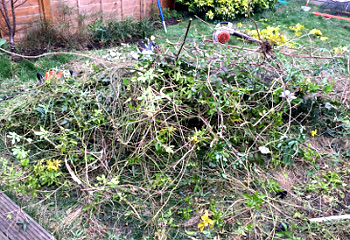 Whenever you've got green waste in the capital that you need to get rid of without any messing about, Allan's Rubbish Removals' London garden rubbish removal service is the one you need. All council alternatives prove to be time consuming, hard to comprehend and to deal with - like skip hire, for example. Those uncomfortable solutions also don't come free, so bottom line you will probably besides gaining some free time and painless back even save money by booking Allan's Garden rubbish Removal service.
Allan's Garden Rubbish Removal in London - Why Hire Us?
With us your London garden waste removal will be hassle-free and take place when you need it most, letting you take advantage of:
Evening and weekend pick up options;
Customer support that's available 24/7;
An experienced insured and vetted garden rubbish removal team;
A simple rate with no hidden extras;
The option of same-day service for emergencies;
A faster and simpler way to arrange gardening rubbish collection!
About Gardening Rubbish Removals
How do you charge for garden clearance?
Because we normally charge by volume, you can be sure that you'll be getting best value for your money. We only charge by weight when dealing with particularly heavy materials such as rubble or soil, and our price includes all labour, equipment and recycling costs.
Do you provide a same­-day garden waste removal service?
Yes! We are located all around London, which means we can pick up your rubbish within 2 hours of your call. Unfortunately, we may not always be able to collect your waste right away due to the many bookings we receive daily. Therefore, we recommend giving us at least a day or two's notice in advance in order to ensure your garden rubbish removal is scheduled for the most suitable time for you.
What types of garden waste do you remove?
We collect all types of garden waste, except toxic and other hazardous materials. Collection, transportation and disposal are all included in your fee.
We can additionally clean your bins, too.
Some common items we collect are:
Animal bedding or straw Christmas trees
Plant pots or polystyrene